Pflanzenöle, Naturkost & Wellnessprodukte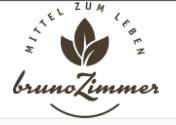 About Bruno Zimmer e.K.
Welcome - brunozimmer has been a traditional family business for 25 years and stands for a variety of the best vegetable oils, natural foods & wellness products from the Saarland. Our 70 employees prepare healthy food for you with love and under hygienically perfect conditions. In doing so, we combine old craftsmanship with modern technology and, in addition to traditional oil varieties, we always offer you new experiences that touch all your senses. In addition to our own internal laboratory with two laboratory assistants, our products are regularly tested by accredited laboratories in Germany. This way we can ensure that only high quality products find their way to you. Without compromise! We do not process any raw materials that have been bred with the help of modified genetic engineering. This applies not only to organic products, but also to the few articles that we do not offer in organic quality.
Information how to contact us:
Web:
Mail:
Phone:
06854-90830
Fax:
06854-908329
Postal address:
Bruno Zimmer e.K.z. hp Frank ZimmerGewerbegebiet Wallfeld 6
66649 Oberthal
Germany • Saarland • St. Wendel
Product- / search words:
BIO Produkte Pflanzenölen Naturkost Wellnessprodukte Kosmetik Speiseöle Speisefette Nahrungsergänzungsmittel LowCarb Produkte Basisöle Pflegeprodukte Partnerprodukte Ätherische Öle Öle mischen abfüllen Trockenprodukte mischen und abfüllen Bio-Speiseöle Sonnenblumenöl Rapsöl Hanföl Olivenöl exotische Kreationen Chili-Pfeffer-Würzöl Omega 3 Fettsäuren Vitamine Spurenelemente Mineralstoffe Vegan Energy Konzept Mikronährstoffe Vitalstoffe Superfood Aminosäuren BASENBALANCE Calcium Citrat Pulver Coenzym Q10 Acerola-Kirsche Ballaststoff-Pulver Arganöl Aprikosenkernöl Avocadoöl Flächendesinfektionsmittel Handhygieneschaum Basiscreme Bergamotte Body Butter Lactopia-Deo Fenchel Fußbalsam Ayurveda Demeter Kardamon Kurkuma Ingwer Kreuzkümmel Minze Macis Zimt Rosenblätter Tee Direktsaft Basenkugel Brotaufstrich Brotbackmischung Apfelpektin Eiweiß Brot Fruchtix Karottensuppe Kartoffelsuppe Kürbissuppe Enna Care® 3 Tage Fasten Svadisht Beluga-Linsengericht Shahi Walnussmehl Yacon-Wurzel Yacon Sirup Dattel Kokos Konfekt Fruchtkonfekt Fruchtkugel spermidinreichen BIO Weizenkeime Mango Schoko REZEPTE Ölbuch Duftlampen Aromatherapie Kochbuch Kräuterextrakte Chili-Pfeffer-Würzöl Trüffel-Steinpilz-Würzöl Aromakompositionen Dressing Nachtkerzenöl Gammalinolensäure Schwarzkümmelöl Edelbitterschokolade Nuß-Nugat-Creme Zahnpflegekaugummi Xylit Tafelsüsse Insulin-neutral Weißolade Crunchy Coconux Vollmilch Schokolade Birkenzucker Karottenpesto
Entry change:
Click here do modify the entry